Le traumatisme de suspension— un tueur silencieux
Abstract
Dans un monde où les exigences de sécurité sont omniprésentes, les harnais antichute sont devenus monnaie courante pour les personnes qui travaillent en hauteur. Les harnais et dispositifs antichute sont aujourd'hui fréquemment utilisés dans l'industrie de la construction, l'alpinisme et les autres activités récréatives comportant un risque de chute. Grâce à la législation sur la santé et la sécurité au travail, aux programmes de prévention sur les lieux de travail et à la culture de réduction des risques au travail, on comprend mieux quand et comment porter les dispositifs antichute, ainsi que les dangers potentiels associés à leur utilisation. Le milieu de la santé manque toutefois de connaissances sur la prise en charge clinique des patients qui, blessés par ce type d'équipement, subissent un traumatisme de suspension, aussi appelé « syndrome du harnais » ou « choc orthostatique par suspension ». Cet article aide à accroître la sensibilisation et la compréhension de ce qu'est un traumatisme de suspension et comment gérer de manière pragmatique cette condition à la fois du point de vue préhospitalier et du service d'urgence.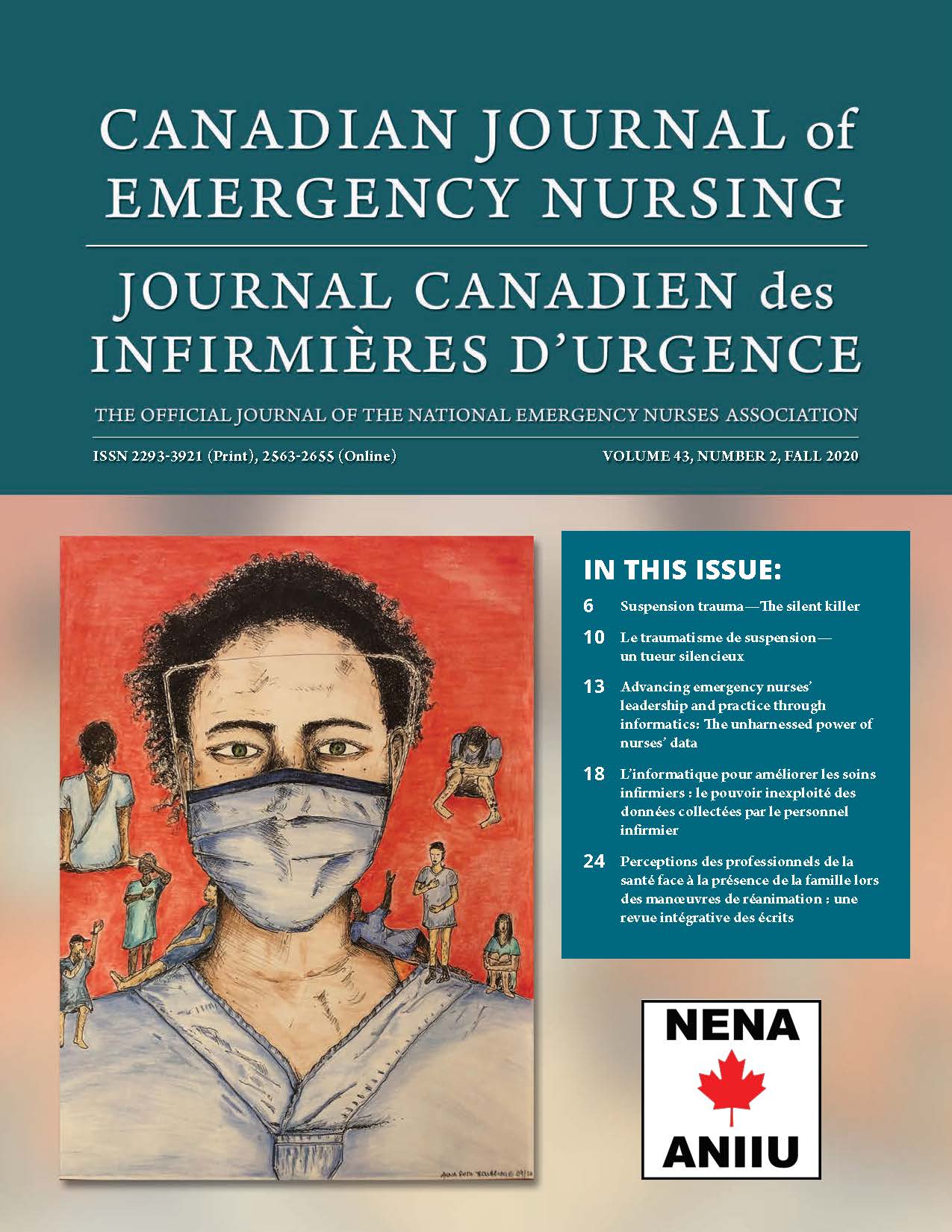 Downloads
How to Cite
Drew, R. (2021). Le traumatisme de suspension— un tueur silencieux. Canadian Journal of Emergency Nursing, 43(3), 10–12. https://doi.org/10.29173/cjen116
License
Copyright (c) 2021 Christopher Picard; Richard Drew
This work is licensed under a Creative Commons Attribution 4.0 International License.
The Canadian Journal of Emergency Nursing is published Open Access under a Creative Commons CC-BY 4.0 license. Authors retain full copyright.